THE 'QUADRILATERO' ROAD INFRASTRUCTURAL PROJECT
The 'Quadrilatero' Road Infrastructural Project consists in the completion and adaptation of two main roadways, the Foligno-Civitanova Marche (SS77) one and the Perugia-Ancona (SS76/SS318) one, in the construction of the Marche's Pademontana for the Fabriano-Muccia/Sferia section, as well as other connections, intervalley route and all of the interventions that ensure a connection between urban centers and industrial poles and, more generally, in improving and increasing accessibility to the internal areas of the concerned Regions.
Regarding the completion of the works of the Perugia Ancona route the executive and detailed plan has been done for the SS.318 (Pianello-Valfabbrica) and for the SS.76 (Val d'Esino: Fossato-Vico Cancelli and Abacina-Serra San Quirico).
In detail, the road alignment of the SS.318 has a development of 8.5 km and it is entirely newly built. The main work that has been done are: N°2 interchanges (Pianello and Valfabbrica), N°4 Natural Tunnels (San Gregorio North/South), N°2 Artificial Tunnels (Della Donna North/South) e N°13 Viaducts (steel-concrete and pre-stressed reinforced concrete mixed section decks). Also, the road layout of the two sub-lots of the SS.76 has a development of 21 km and the new constructions of some sections of the road (including interchanges) and the adaptation and improvement of the other parts have been planned. The main works in the project are: N°5 interchange (Cancelli, Borgo Tufico, Valtreara, Camponocecchio and Serra San Quirico), N° 22 Natural Tunnels, N°2 Artificial Tunnels and N°24 Bridges and Viaducts (steel-concrete and pre-stressed reinforced concrete mixed section decks).
ASSISTANCE IN THE TESTING PHASE
The acceptance tests aim at evaluating the structural response of the considered section subject to design actions that induce the maximum stress with reference to the rare operating combinations. It is assumed that at the time of the load test the viaduct's already subjected to actions due to permanent loads (road pavement, curb/sidewalk weight, safety barriers, parapets and protective nets), so the effects of the test can be evaluated only referring to traffic loads, including dynamic increase. The lowering measurement is carried out topographically, with one or two measuring station each equipped with a self leveling level with centesimal or decimal micrometer, for all loading phases and at all measurement points.
In particular, in the period 20-24 July 2020, SGAI S.r.l. took care of the technical assistance during the load tests on the viaducts of the Albacina-Serra San Quirico lot. These tests, that aimed at the opening of a stretch of about 3 km of northbound carriageway that has been opened just a few days ago, were carried out by positioning trucks according to predetermined configurations which would have induced stressful moments in the on-board beams equal to the design moments used in the sizing phase. The vehicles were loaded with concrete cubes reaching 144 kN of load added to the maximum circulation load (420 kN).

TESTING SCHEME: section, planimetric diagram, planimetry of measurement point.
The works involved in the test are: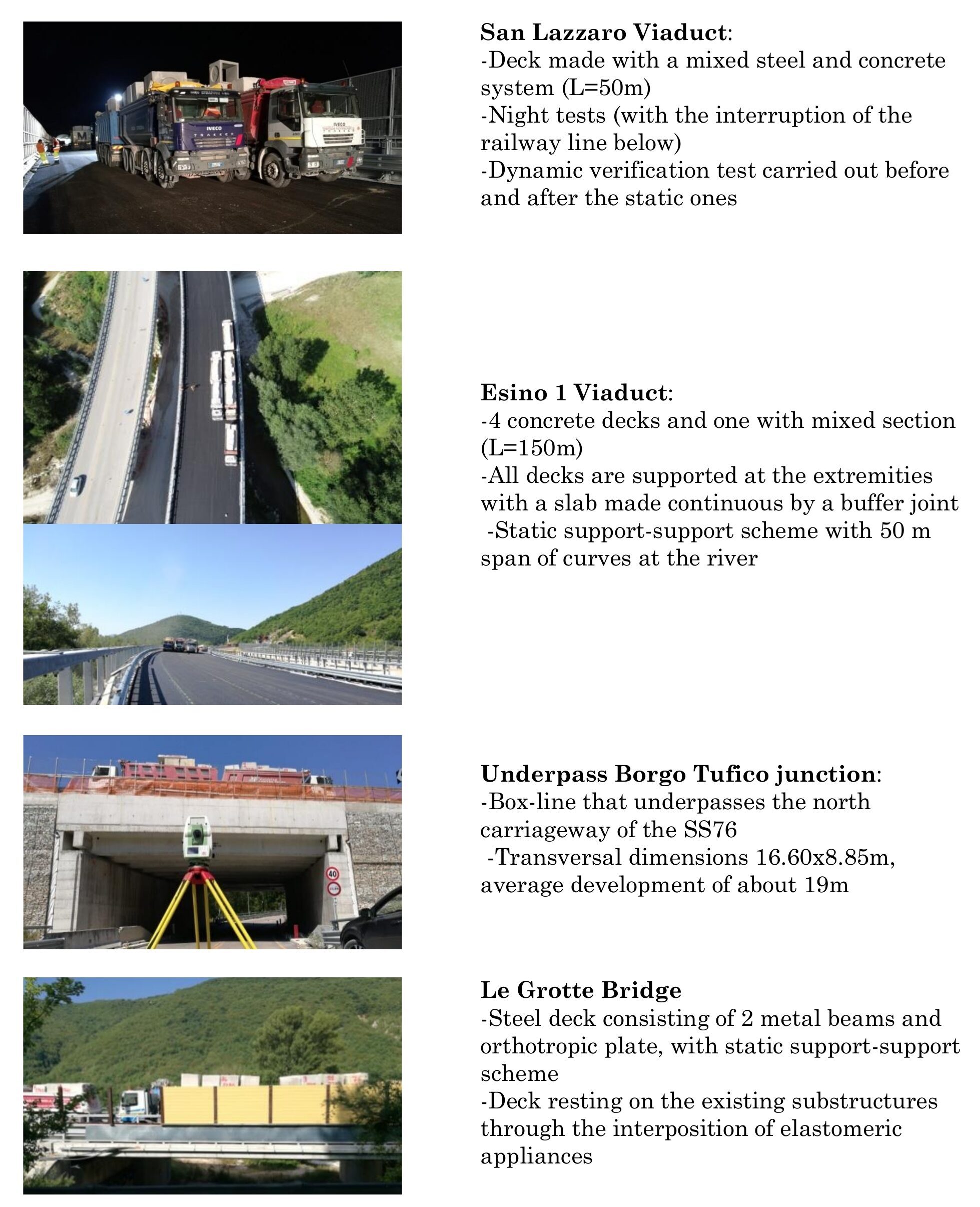 PROGETTO INFRASTRUTTURALE VIARIO QUADRILATERO
Il Progetto Infrastrutturale Viario Quadrilatero consiste nel completamento e adeguamento di due arterie principali, quella di Foligno-Civitanova Marche (SS77) e quella di Perugia-Ancona (SS76 e SS318), nella realizzazione della Pedemontana delle Marche per quanto riguarda il tratto Fabriano-Muccia/Sfercia, nonché di altri allacci, strade intervallive e di tutti gli interventi che assicurano il raccordo tra i centri abitati e con i poli industriali esistenti e, più in generale, nel migliorare e incrementare l'accessibilità alle aree interne delle Regioni interessate.
In dettaglio, il tracciato stradale della SS.318 ha uno sviluppo pari a 8.5 km, ed è interamente di nuova realizzazione, le cui opere principali sono: N°2 svincoli (Pianello e Valfabbrica), N°4 Gallerie Naturali (sviluppo degli scavi in sotterranero pari a 3770m), N°2 Gallerie Artificiali (Della Donna Nord/Sud) e N°13 Viadotti (impalcati in sezione mista acciaio-cls e in C.A.P.). Altresì, il tracciato stradale dei due sub-lotti della SS.76 ha uno sviluppo pari a 21.0 km, ed è stata prevista la nuova esecuzione di alcuni tratti stradali (compresi gli svincoli), l'adeguamento e il miglioramento dei restanti tronchi. Le opere principali previste sono: N°5 svincoli (Cancelli, Borgo Tufico, Valtreara, Camponocecchio e Serra S. Quirico), N°22 Gallerie Naturali (sviluppo superiore a 23km), N°2 gallerie artificiali e N°24 Ponti e Viadotti (impalcati in sezione mista acciaio-cls e in C.A.P.).
ASSISTENZA IN FASE DI COLLAUDO
Le prove di collaudo mirano alla valutazione della risposta strutturale dell'impalcato in esame sottoposto ad azioni di progetto tali da indurre le sollecitazioni massime con riferimento alle combinazioni di esercizio rare. Si ipotizza che al momento dell'esecuzione della prova di carico il viadotto sia già sottoposto alle azioni dovute ai carichi permanenti (pavimentazione stradale, peso dei cordoli / marciapiedi, barriere di sicurezza, parapetti e reti di protezione), per cui gli effetti delle prove di carico saranno valutati solo con riferimento ai carichi da traffico comprensivi di incremento dinamico. La misura degli abbassamenti viene effettuata per via topografica, mediante una o due stazioni di misura dotate ciascuna di un livello autolivellante con micrometro centesimale o decimale, per tutte le fasi di carico e in corrispondenza di tutti i punti di misura.
In particolare nel periodo 20-24 Luglio 2020 lo studio SGAI S.r.l. si è occupato dell'assistenza tecnica durante le prove di carico sui viadotti del lotto Albacina-Serra San Quirico. Tali prove, finalizzate all'apertura di un tratto di circa 3km di carreggiata Nord, inaugurato appena pochi giorni fa, si sono svolte posizionando camion secondo configurazioni predeterminate tali da indurre momenti sollecitanti nelle travi di bordo pari ai momenti di progetto utilizzati in fase di dimensionamento. I veicoli sono stati caricati con cubi in calcestruzzo arrivando fino a 144 kN di carico aggiunto al massimo carico di circolazione (420kN).

SCHEMI COLLAUDO: sezione, schema planimetrico, planimetria punti di misura.
Le opere coinvolte nel collaudo sono riportate a seguire: