Opportunità di lavoro / Job Opportunities: BIM Coordinator / BIM Specialist – Morciano di Romagna (RN)
SGAI (www.sgai.net) – Opportunità di lavoro: BIM Coordinator / BIM Specialist – Morciano di Romagna (RN) Ricerchiamo per la nostra sede operativa di Morciano di Romagna (RN), un/una BIM Coordinator / BIM Specialist. Costituiscono requisito preferenziale: – Master di specializzazione in BIM; – Esperienza nell'ambito della progettazione edilizia / infrastrutturale; – Certificazione BIM Coordinator o […]
July 9, 2021
#BIMCoordinator #BIMSpecialist #JoinUS #SGAI
Share: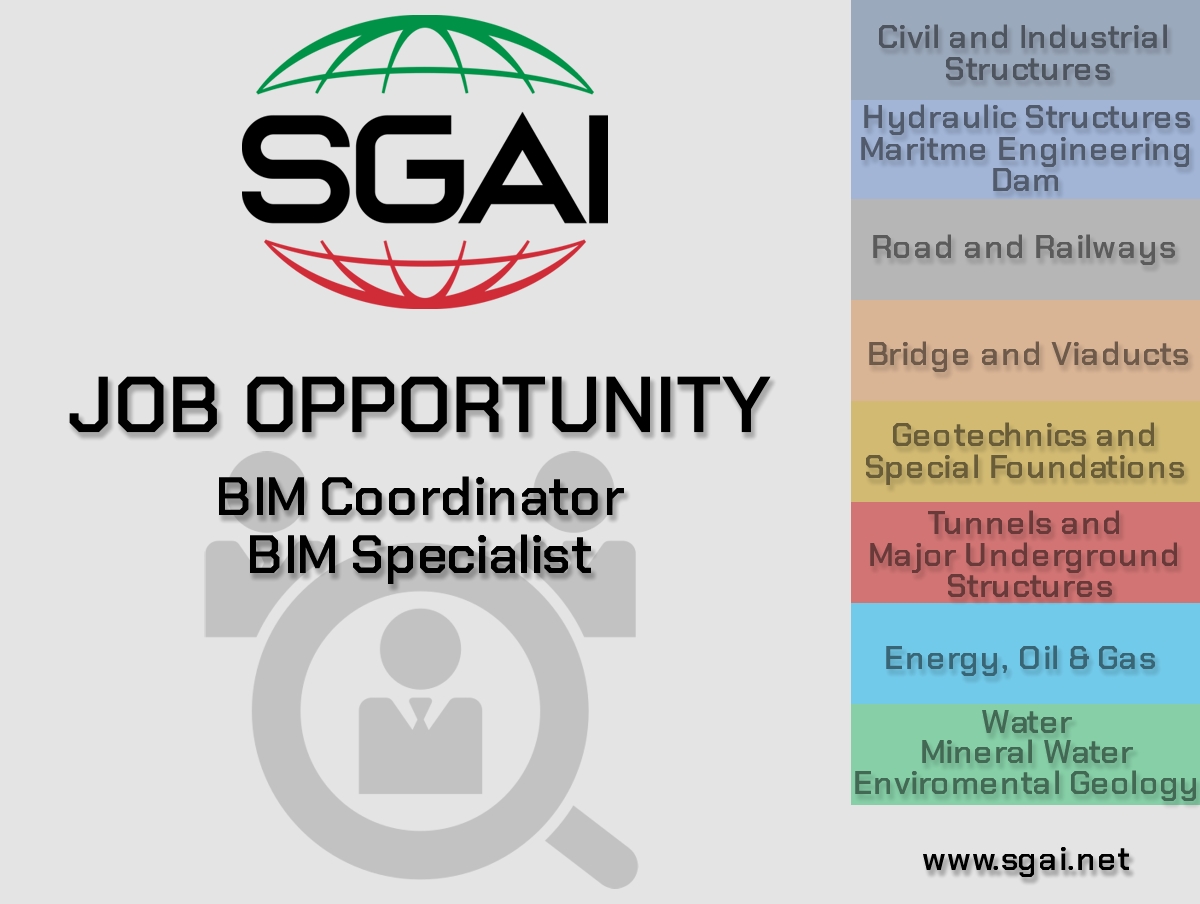 SGAI (www.sgai.net) – Opportunità di lavoro: BIM Coordinator / BIM Specialist – Morciano di Romagna (RN)
Ricerchiamo per la nostra sede operativa di Morciano di Romagna (RN), un/una BIM Coordinator / BIM Specialist.
Costituiscono requisito preferenziale:
– Master di specializzazione in BIM;
– Esperienza nell'ambito della progettazione edilizia / infrastrutturale;
– Certificazione BIM Coordinator o BIM Specialist.
La figura ricercata si occuperà di tutte le attività di coordinamento e modellazione BIM, nell'ambito infrastrutturale ed edilizio, nonché di tutte le procedure gestionali (documentazione BIM) e operative di template, codifiche, standard, famiglie, parametrizzazione, report, abachi, ecc.
Il candidato ideale dovrà possedere i seguenti requisiti:
– Conoscenza della modellazione avanzata BIM Revit e parametrizzazione di Famiglie;
– Conoscenza di lavoro collaborativo tramite AcDat BIM360;
– Conoscenza del coordinamento dei modelli e dell'analisi delle interferenze tramite Nvisworks
– Conoscenza gradita almeno base di Dynamo Autodesk;
– Conoscenza di procedure di estrazione dati per computazione;
– Conoscenza di procedure di BIM Management (normativa BIM, processi e flussi di gestione commesse BIM, oGI, pGI)
Completano il profilo buone doti relazionali, organizzative e di coordinamento, comunicative, dedito al lavoro di gruppo al fine di raggiungere obiettivi comuni.
Si richiede conoscenza discreta della lingua inglese
In fase di selezione verranno svolti dei colloqui teorici ed operativi sui Software BIM.
Se questo ruolo corrisponde alla vostra formazione e incontra il vostro interesse, candidatevi secondo questa modalità: Inviate il vostro CV accompagnato da una lettera motivazionale.
I documenti devono essere in formato pdf e inviato all'indirizzo email sgai@sgai.net indicando nell'oggetto il seguente riferimento dell'offerta di lavoro: 202107001 – BIM Coordinator / BIM Specialist.
Per ulteriori informazioni: https://www.sgai.net/jobs-research/
SGAI (www.sgai.net) – Job opportunities: 202107001 – BIM Coordinator / BIM Specialist – Morciano di Romagna (RN)
We are looking for a BIM Coordinator / BIM Specialist for our operational headquarters in Morciano di Romagna (RN).
The following are a preferential requirement:
– Master of specialization in BIM;
– Experience in building / infrastructure design;
– BIM Coordinator or BIM Specialist certification.
The person we are seeking will take care of all BIM coordination and modeling activities, in the infrastructural and construction field, as well as all managerial (BIM documentation) and operational procedures of templates, codings, standards, families, parameterization, reports, schedules, etc. .
The ideal candidate must possess the following requirements:
– Knowledge of advanced BIM Revit modeling and parameterization of Families;
– Knowledge of collaborative work through AcDat BIM360;
– Knowledge of model coordination and interference analysis through Nvisworks
– At least basic knowledge of Dynamo Autodesk is appreciated;
– Knowledge of data extraction procedures for computation;
– Knowledge of BIM Management procedures (BIM regulations, BIM, oGI, pGI job order management processes and flows)
We would like that the candidate has good interpersonal, organizational and coordination skills, communicative skills, dedicated to teamwork in order to achieve common goals.
Fair knowledge of the English language is required
During the selection phase, theoretical and operational interviews on BIM Software will be held.
If this role matches your training and meets your interest, apply in this way: Send your CV accompanied by a motivational letter.
The documents must be in pdf format and sent to the e-mail address: sgai@sgai.net indicating in the subject the following job offer reference: 202107001 – BIM Coordinator / BIM Specialist.
For more information: https://www.sgai.net/jobs-research/