Opportunità di lavoro/Job Oppotunities: 201911005 – Tecnico Computi / Sicurezza nei cantieri sede di Morciano di Romagna (RN)/Quantitative and cost estimating Technician / Construction site safety coordinator, in Morciano di Romagna (RN)
SGAI (www.sgai.net) – Opportunità di lavoro: 201911005 – Tecnico Computi / Sicurezza nei cantieri sede di Morciano di Romagna (RN) Il candidato si occupererà della stesura dei computi metrici estimativi, delle valutazioni tecnico economiche, della redazione dei piani di sicurezza e coordinamento (PSC e CSE). Il candidato ideale dovrà possedere i seguenti requisiti: – Abilitazione […]
November 26, 2019
#CostEstimating #design #engineering #Safety #SGAI
Share: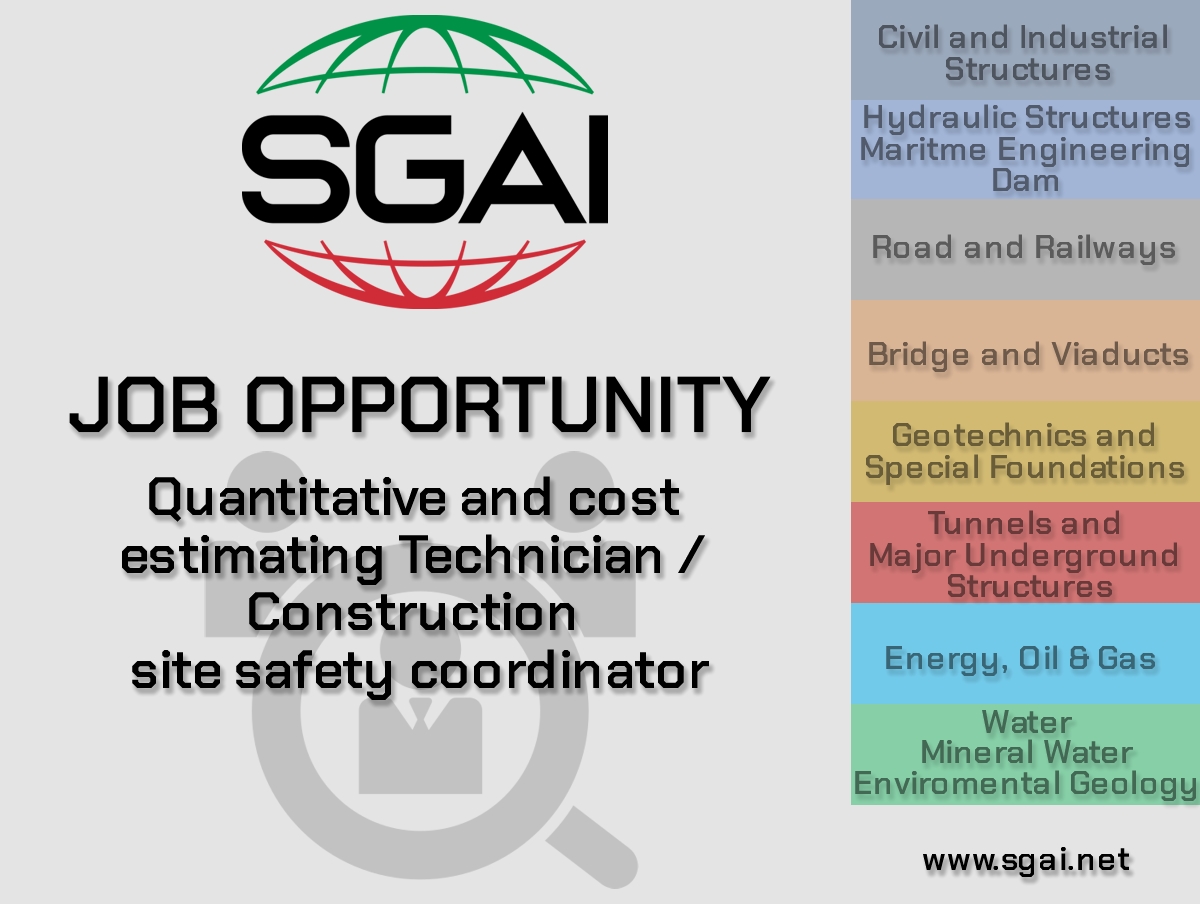 SGAI (www.sgai.net) – Opportunità di lavoro: 201911005 – Tecnico Computi / Sicurezza nei cantieri sede di Morciano di Romagna (RN)
Il candidato si occupererà della stesura dei computi metrici estimativi, delle valutazioni tecnico economiche, della redazione dei piani di sicurezza e coordinamento (PSC e CSE).
Il candidato ideale dovrà possedere i seguenti requisiti:
– Abilitazione in corso di validità (con relativi obblighi di aggiornamnto professionale previsti dai regolamenti nazionali) e pregressa esperienza nel ruolo di coordinatore per la sicurezza in fase di progettazione ed esecuzione dei lavori nei cantieri ai sensi del D. Lgs. n.81 del 09 Aprile 2008;
– Buone conoscenze di ACCA Primus e STR;
– Conoscenza delle tecniche e della definizione delle quantità di progetto;
– Accuratezza, metodo e precisione;
– Disponibilità immediata;
– Buona conoscenza dell'inglese;
– Versatilità. Infatti in caso di necessità darà supporto all'ufficio gare per la redazione dell'offerta tecnica.
Se questo ruolo corrisponde alla vostra formazione e incontra il vostro interesse, candidatevi secondo questa modalità: Inviate il vostro CV accompagnato da una lettera motivazionale.
I documenti devono essere in formato pdf e inviati ai seguenti indirizzi e-mail: dinka.curic@sgai.net indicando nell'oggetto il seguente riferimento dell'offerta di lavoro: 201911005 – Tecnico Computi / Sicurezza nei cantieri sede di Morciano di Romagna (RN)
Per ulteriori informazioni: https://www.sgai.net/jobs-research/
SGAI (www.sgai.net) – Job opportunity: 201911005 – Quantitative and cost estimating Technician / Construction site safety coordinator, in Morciano di Romagna (RN)
The candidate will be responsible for the drafting of the estimative quantitative calculation, the technical economic assessments, the drafting of the security and coordination plans (CSP and CSE).
The ideal candidate must have the following requirements:
– Valid proffesional qualification (with related professional update obligations under national regulations) and previous experience in the role of safety coordinator in the design and execution of work on construction sites under the D. Lgs. 81 of April 9, 2008;
– Good knowledge of ACCA Primus and STR;
– Knowledge of techniques and the definition of project quantities;
– Accuracy, method and accuracy;
– Immediate availability;
– Good knowledge of English;
Versatility. In fact, in case of need will give support to the tender office for the drafting of the technical offer.
The documents must be in pdf format and sent to the following e-mail addresses: dinka.curic@sgai.net indicating in the subject line the following reference of the job offer: 201911005 – Quantitative and cost estimating Technician / Construction site safety coordinator, in Morciano di Romagna (RN)
For more information:: https://www.sgai.net/jobs-research/